STEM Saturday
The inaugural STEM (Science, Technology, Engineering and Math )Saturday event was the brainchild of our director, Laura. It shouldn't surprise me that she wanted to extend Palm Valley Lutheran Cooperative Preschool's list of activities by one since she's clearly interested in STEM. I've walked in on her staring at prisms and the backs of CDs, trying to find a way to make them fun for kids. As a parent volunteering in my son's class, I've seen how the kids are drawn to the activities she's created for the STEM lab. So, I was completely onboard when she suggested we plan this event.
Our school families were definitely interested. We had 50+ of our own students show up with their parents in tow. Laura's flier reminded us that preschoolers who participate in STEM activities are more likely to perform well in the math and science fields, so our parents wanted to be involved. We had some new families attend, too. One of my favorite parts of the events was how many of our teachers showed up to be involved!
So, what did our kids get to experience? Dell Children's Medical Center put on a teddy bear clinic. Kids brought their bears and dolls and alligators to get a check up and do some physical therapy. It was definitely a hit!
Or maybe your kid likes geology? Kids worked to classify rocks based on different characteristics – smooth or rough, jagged or round, light or heavy. Then they got to choose a rock to paint and take home.
For the biologist, there was observing the roots of a plant and then planting a lima bean. One of our students has been watching her lima bean for a few weeks. It even graduated to a real pot in the kitchen.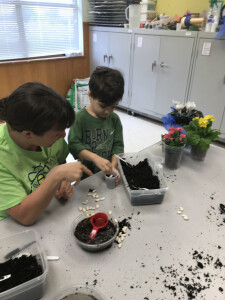 What kid doesn't like robots? How about a robot that colors a picture? In our Robotics room – put on by FESTO, multinational industrial control and automation company– kids got to use an uncontrolled movement robot to draw a picture. It was a packed room the entire two hours!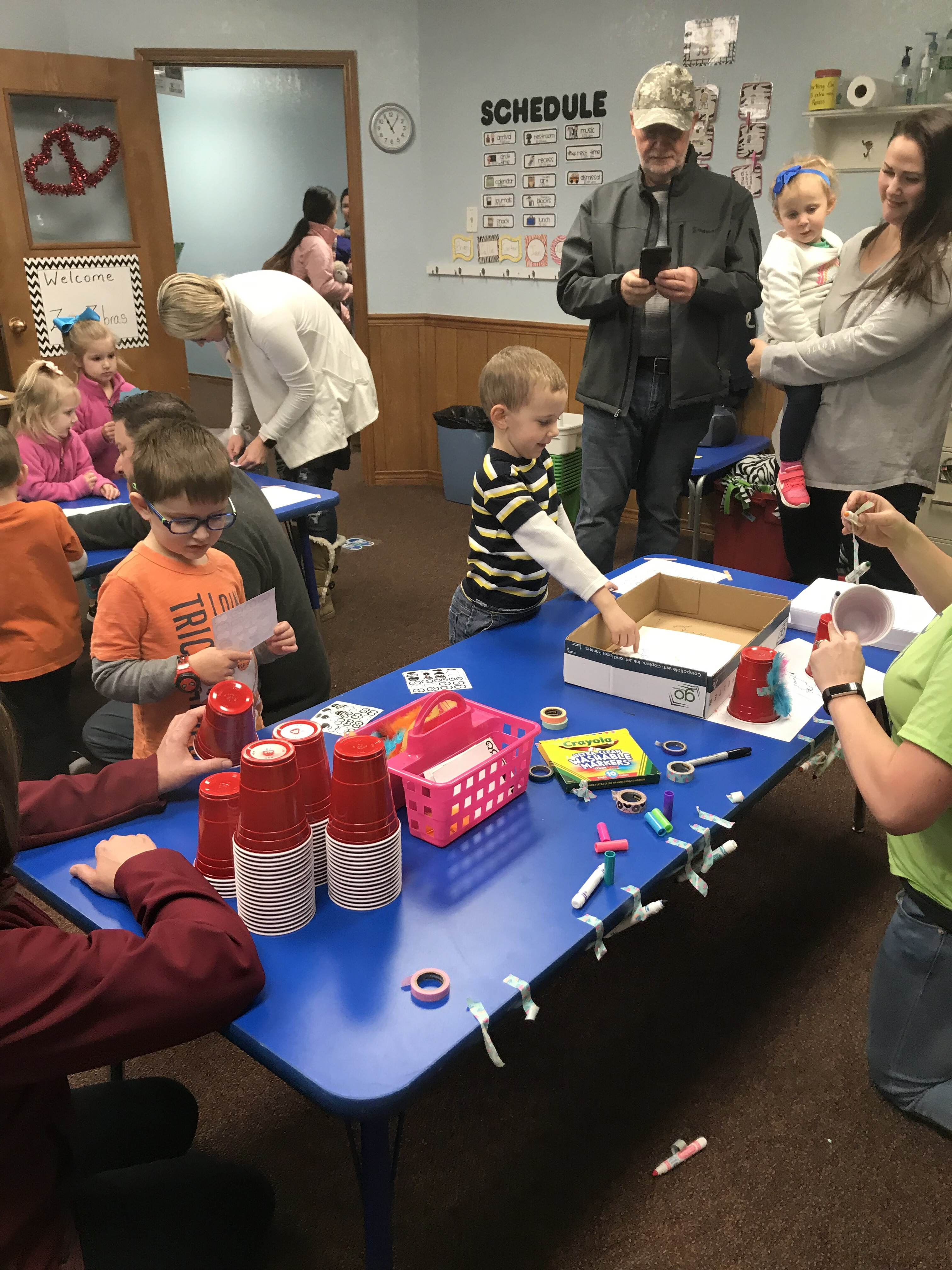 There were rooms for chemistry, magnets, cooking, music, and simple machines. With lots to explore, all the kids got to experience lots of what STEM has to offer. We hope to make it an annual event because our students…no, our entire community…no, all kids deserve the opportunity to explore the world around them. STEM is our future. How many of our kids will have jobs in IT? Engineering? Applied math? Scientific research? There are probably a list of a dozen new jobs I can't even imagine. It's important, and Palm Valley Lutheran Cooperative Preschool wants to be leading the way.